What is truss out scaffolding?
A truss-out scaffold is an independent tied scaffold, not erected from the ground but supported by a scaffolding structure projecting from the face of a building or structure.
It's our job as the scaffold designer and engineer to agree on the suitability of the building to resist the forces applied by the cantilever scaffold before any work commences. The user of the scaffold should always exercise the strictest control on the loads applied to the truss-out scaffold once commissioned.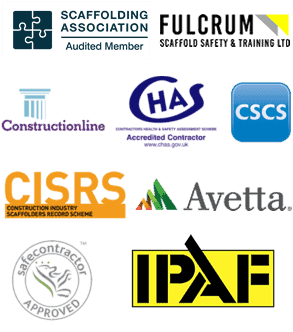 Truss-out & cantilever scaffolding services
As fully CISRS qualified and CITB accredited scaffold experts, we have constructed a number of truss-out & cantilever scaffolding projects in industrial and commercial environments. If you require scaffolding and need a fast, agile and safe team of experts get in touch with us here or call 01763 258 505.
Technical information: How does the truss out support scaffold work?
The internal restraining scaffold should be designed to cater for horizontal forces and be adequately locked into the building to prevent inward and outward movement. This can be achieved by placing sole-boards above and below each standard and securing with screw jacks.
Horizontal movement can also be prevented by butting the transoms against the wall. Additional support can be achieved by securing the scaffold with anchor type ties. Only load bearing couplers should be used for the construction of a truss-out apart from the working lifts which shall be fully supported by the cantilevered structure that is formed using load bearing fittings.
The truss-out should be fully completed and secure before attempting to erect the access scaffold. The needles should be fitted with bridle tubes to minimise horizontal movement. The vertical load of the external scaffold is supported by the sill, and the base of the spur. Spurs should be set at an angle generally not exceeding 35 degrees from the vertical.
The design may require supplementary couplers be added to certain component parts, however if this is not requested it is still common practise to add check fittings to spur tubes and puncheon (standards). The supported access scaffold should be tied and braced as normal but ensuring that the first level of ties is at the first floor level above the truss-out.
Our latest scaffolding work
Contact us today to arrange a visit to your site. We'll guide you how things will work and give you a quote on the same day.