Scaffold services in Hertfordshire, Cambridgeshire, Essex, Bedfordshire and London.
We specialise in providing fast, professional and safe scaffolding services to surrounding businesses in Cambridgeshire, Hertfordshire, Bedfordshire, Essex and London. We have previously been relied upon to work within various Cambridge colleges and have constructed scaffolding solutions around many other large commercial buildings quickly and safely. We also provide industrial scaffold services for industrial sites as well as specialist confined space scaffold expertise.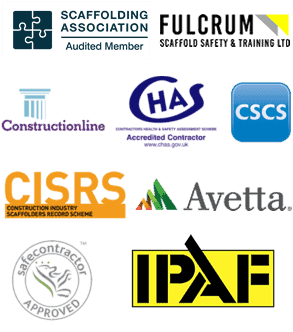 Accurate quotes with no hidden costs
We understand that businesses need 100% accurate quotes upfront with no hidden costs down the line. At Royston Scaffolding we use the latest SMART Scaffolding technology to provide fast and accurate quotations with full breakdowns of every section on the same day. And, you'll get a digital copy emailed to you for your records. This means you know exactly what you are getting from day one.
3D drawings before construction
You'll be able to see exactly how your scaffolding will look before it's constructed. This is particularly good for business and commercial spaces where disruption needs to be as minimal as possible. We'll also discuss any matters of concern before beginning work.
Digital handover certificates & inspections make your life easier
The scaffold handover certificate certifies that the construction meets the requirements of the Work at Height Regulations schedule for the inspection requirement before first use. Many scaffolding firms have traditionally provided this as a physical copy on paper, but our handovers and inspections can be digitally emailed to you with the appropriate signatures. This means everything is better organised and far easier to manage for your business.
Where we serve
We typically serve the surrounding areas of Royston including Hertfordshire, Cambridgeshire, Essex, Bedfordshire and London. If your project falls outside of these areas, don't worry, we still might be able to help! Submit the details of your project online or give us a call on 01763 258 505.
Our latest commercial scaffolding work
Contact us today to arrange a visit to your site. We'll guide you how things will work and give you a quote on the same day.