Scaffold services in Hertfordshire, Cambridgeshire, Essex, Bedfordshire and London.
Sometimes a standardised approach to scaffolding may not fit the bespoke project you're working on. Whether you're renovating an old castle, performing maintenance work on a bridge or building a warehouse, our bespoke scaffolding solutions can help with your unique project.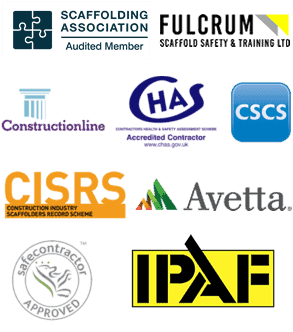 Extensive experience and qualifications
While scaffolding may appear simple, there are actually many different types and techniques. Many of these techniques, such as confined space scaffolding, require specific qualifications and experience in order to carry these out – all of which our experts have. This means that whatever your particular project that you need a bespoke solution for we'll ensure you get the best result possible to fit the task in hand.
3D drawings before construction
We always provide a 3d drawing of your scaffolding project so you can see what it will look like before it's constructed. For bespoke scaffolding solutions this is really valuable as you'll be able to see if this matches with your expectations as well as make the necessary preparations before work begins. We'll talk you through the process and make sure you're happy with everything before going ahead.
Where we serve
We typically serve the surrounding areas of Royston including Hertfordshire, Cambridgeshire, Essex, Bedfordshire and London. If your project falls outside of these areas, don't worry, we still might be able to help! Submit the details of your project online or give us a call on 01763 258 505.
Our latest bespoke scaffolding work
Contact us today to arrange a visit to your site. We'll guide you how things will work and give you a quote on the same day.