Scaffold services for painting buildings in Hertfordshire, Cambridgeshire, Essex, Bedfordshire and London.
Using a scaffolding structure as a means to paint the exterior walls of your house isn't always the first route people think of, but it's certainly the safest and best method to painting your house.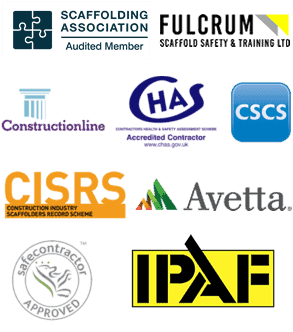 For it's simplicity many people often think using a long ladder will be the best option, but there are several limitations:
Carrying a tin of paint and paintbrush up to a high height on an unstable ladder isn't a very comfortable thought for most people, even for experienced decorators. Throw in some windy weather and it becomes almost impossible.
Up and down, up and down…! Using a ladder is incredibly tiring as only small patches can be done at one time – And, that isn't just for painting either, but also the cleaning and preparation beforehand.
The other option is an extension pole. But not only will this strain your neck but it will most likely be an inaccurate solution, with paint getting where it shouldn't be!
The best method used by professionals is a safe scaffolding structure. There are many benefits to this:
Stability – Due to the nature of the tightly secured structure, even in harsher weather, the scaffolding tower is a safe environment.
Time – Put simply, it's faster. No going up and down ladders every few moments to shift along a few inches.
Manageable workload – Not only can you simply lay your tin of paint and paint brush by your side, but you can do so without tiring yourself out or straining.
Accuracy – No more trying to paint hard-to-reach areas (while risking your safety!).
Despite all the positives, many might still think that having scaffolding around your house or building is a lot of hassle, but it really isn't. All our scaffolding projects are designed around you. We'll fit your scaffolding when you need it for and we'll build the structure around your environment to ensure the least amount of disruption possible to your daily routine.
How much does painters scaffolding cost?
The cost for painters scaffolding completely varies depending on the size and nature of the project, but it's often a lot less than you think and certainly worth it in comparison to risking your safety or quality using a ladder or pole extension.
Where we serve
We typically serve the surrounding areas of Royston including Hertfordshire, Cambridgeshire, Essex, Bedfordshire and London. If your project falls outside of these areas, don't worry, we still might be able to help! Submit the details of your project online or give us a call on 01763 258 505.
Our latest scaffolding work
Contact us today to arrange a visit to your site. We'll guide you how things will work and give you a quote on the same day.