Royston Scaffolding recognise that it is imperative to protect people and the environment during every stage of a construction contract, and therefore we offer an encapsulation service to our clients, which offers a neat, fast and durable protection system to ensure that the public are protected from injury and minimal damage is caused to the environment.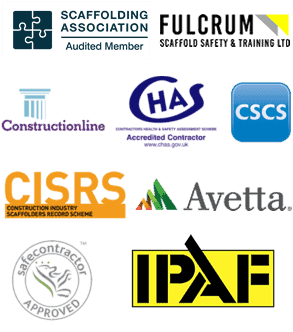 We use the best materials to ensure maximum protection
There are many uses for encapsulation, such as environmental works, asbestos removal and demolition contracts where it is essential to contain materials and debris, as well as forming temporary roofs and canopies for protection from weather conditions.
Royston Scaffolding use only 100% recyclable materials, which can be wrapped around a scaffold structure, regardless of shape or size, and then heated to form a tight seal.  It will protect the structure from dust, moisture, fumes etc.
All materials used by us conform to European standards and are fire retardant. It is a safe way to protect a structure and is aesthetically neater than conventional plastic cladding.
If you would like further details or have any questions regarding encapsulated scaffolding, please feel free to contact a member of our team, who will be happy to discuss your requirements or supply you with a no-obligation quotation for the works.
Our latest scaffolding encapsulation work
Contact us today to arrange a visit to your site. We'll guide you how things will work and give you a quote on the same day.