Experienced experts in all areas of scaffolding
We are Royston Scaffolding – a local team of highly qualified expert scaffolders serving homes and businesses in the Hertfordshire town of Letchworth Garden City.
Whether it's the beautiful historic white houses of Letchworth's residential areas or the many businesses that operate in the area, we have provided our scaffolding expertise for numerous projects in and around Letchworth including Baldock.
We are Safecontractor Approved and members of the Scaffold Association, which means that and all our professional scaffolders are 100% compliant with the latest health and safety procedures.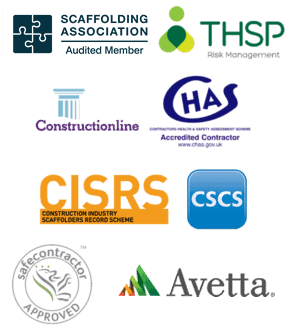 Get a quote
At Royston Scaffolding we use the latest SMART Scaffolding technology. This means we can offer you a detailed and accurate quotation very quickly and often on the same day. We don't do off-the-top-of-our-head quotes, which also means there are no hidden costs or surprises. To get a quote, fill out our online quote form here or give us a call on 01763 258 505.
Residential & household scaffolding in Letchworth
We pride ourselves on offering a residential scaffold service in Letchworth that is completely hassle-free. We'll go through with you all the details from unloading and street access to compliance and deconstructing.
Depending on the size of your property, residential scaffolding can usually be quite straightforward and so we can be quick to arrange and construct. Every project is different though, so whether you have a small house or a large renovated old white typical Letchworth house get in touch with us today here or call us on 01763 258 505 to arrange your free quote consultation.
Business & commercial scaffolding in Letchworth
Since we started our scaffolding service in 1985, we have worked with businesses in and around Letchworth. We know that compliance, safety and how soon we can start the job is vital to delivering a great commercial scaffolding service to businesses in Letchworth.
With any quote we provide, it is always detailed, broken down and 100% accurate with no "round-about" costs. We use our latest SMART Scaffolding technology to generate your quote and also show you a 3D drawing of how we believe your scaffolding will look. And, with our handover app you can always track your scaffolds from the time the digital handover form is signed until they are decommissioned. Give us a call on 01763 258 505 or request a quote online today.
Industrial scaffolding
As highly qualified and experienced Scaffolders we are used to working in the challenging environments of the Letchworth industrial units where safety must come first. Take a look at some of our recent industrial scaffolding projects or even when we completed a specialist confined space scaffolding project at the Emirates Stadium. For further information please book a quote consultation with us by filling in our form online or giving us a call on 01763 258 505.
Our latest scaffolding work
Contact us today to arrange a visit to your site. We'll guide you how things will work and give you a quote on the same day.